Elegant and Historic
English Victorian Queen Anne
Staunton, VA
Mezzanine
Dimensions are approximate.
So, what is this "mezzanine" thing? Well, the ceilings in the original (front) part of the house are higher than those in the newer (rear) part of the house, so the second floor on the new part (being lower than the old part) is entered off a stairway landing.
The mezzanine contains two bedrooms, a full bathroom, and a storage closet. Shut the door and you have a great guest suite.
Entry to Mezzanine from stairs: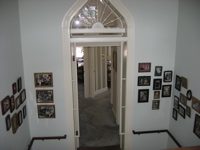 Mezzanine hallway: 4' x 9'
Skylights above.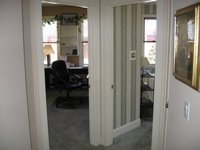 Bedroom #1: 14' 6" x 10' 10"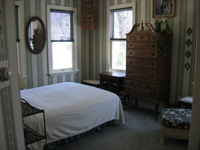 Bedroom #2: 14' 6" x 10' 10"
Used as office here.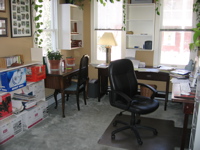 Bathroom #2: 7' 8" x 5'