Elegant and Historic
English Victorian Queen Anne
Staunton, VA
Exterior and Grounds
Grounds: The lot is 12,144 sq ft, mature trees, developed gardens, sloping, completely fenced, with mountain view. Very small grass area. The front porch has an excellent view - great for visiting or reading under the ceiling fan. There is also a 3-tiered slate stone side patio, overlooked by a roofed deck area.
Paved alley provides off-street parking on a level with the first floor. Privacy fence on rear edge of parking area.
Dimensions are approximate.
House from street: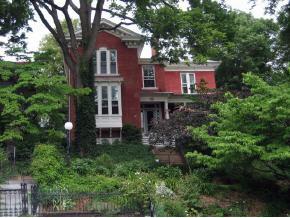 House from front walk: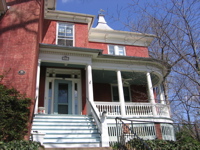 Lawn and street from front walk:
Area to be mowed is VERY small.
Entire property is fenced.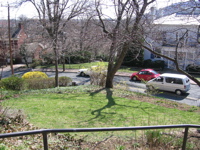 House from lawn: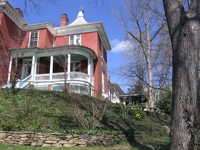 Front porch. 10' x 5'
Ceiling fan. Great place to sit and read.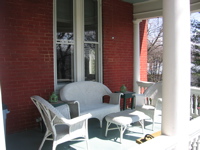 Three-level slate patio:
Covered deck (14' 6" x 9' 6") in background.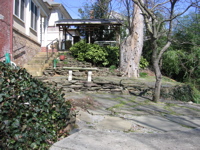 Alley approach to back of house: